The Shortlister team descended on the HR Tech conference in early October.  We met with countless vendors, talked with many consultants and took in plenty of sessions.  What did we learn through all of this?   HR technology is not really about technology for HR teams anymore.  It's all about the employees (and candidates)!
We met with a LOT of vendors.  Regardless of whether they were a payroll software or recruitment software, HRIS system or benefits administration software, vendors' talk tracks all focused on how their solution made employees' lives easier. In fact, I can't think of a single vendor who spent any time reviewing the efficiencies their solution provided for the HR team.  Even vendors whose solutions were not employee-facing talked about the benefits that would be realized by the employees.
In trying to distill down all of the content I took in, I identified a few key topics that all focus on addressing the employee experience:
AI is everywhere
Would it even be an HR technology conference if we didn't hear about artificial intelligence ad nauseum?  AI has infiltrated every corner of the HR technology market.  Most, if not all, vendors are incorporating AI in some capacity, most notably in the recruiting space.  However, it's important to acknowledge that many employers aren't there yet; they're still working on automation or a mobile strategy.
Make sure you dig in to understand what AI really means with each vendor. Functionality varies widely, but when executed well can bring incredible value to HR and employees.
integrations and partnerships are required
Gone are the days of thinking an all-in-one HR technology vendor can solve all problems.  The future of HR tech lies in agnostic "hubs" with plug-and-play integrations.  And with core HR technology platforms only being replaced every 7-10 years, HR leaders are looking to add on innovative technology solutions to address their key areas of concern, without having to upend their core technology.
Thoroughly investigate how your potential vendors will work together. Employees expect a seamless experience and don't want to manage multiple HR logins across the various technologies.
employees want employers to invest in them

And I'm not talking about money. Employees are more stressed than ever at work and in their personal lives. They're worried about their futures with today's workplace revolution: the advent of the gig economy and (perceived or real) automation taking over jobs. Notably, we saw a soft focus on employee wellness and well-being, under the umbrella of performance and engagement (rather than health and fitness), which hasn't been a historical target of HR technology vendors.  Employees want to feel valued.
?? Employees want opportunities for re-skilling, up-skilling, flexible work models and to mitigate professional and personal issues. If deployed thoughtfully, technology tools to address well-being, learning, engagement and communication all can provide incredible value for employees.
FINAL THOUGHTS
All of these complex ideas are really focused on one singular thing: making life easy for the employee.  There are groundbreaking technology solutions available in the market today, ready to address every aspect of the hire to retire experience – as well as life outside of work.  However, be sure to remember that technology alone can't solve company problems, but it is a key component of the overall HR and business strategy.
There continues to be explosive growth in the HR tech vendor landscape. With 10,000+ attendees, 450+ vendor exhibitors, thousands of product solutions and over 100 sessions, it was impossible to take in everything the HR Technology Conference had to offer.  We hope you found these insights valuable, and we're looking forward to seeing you at next year's event!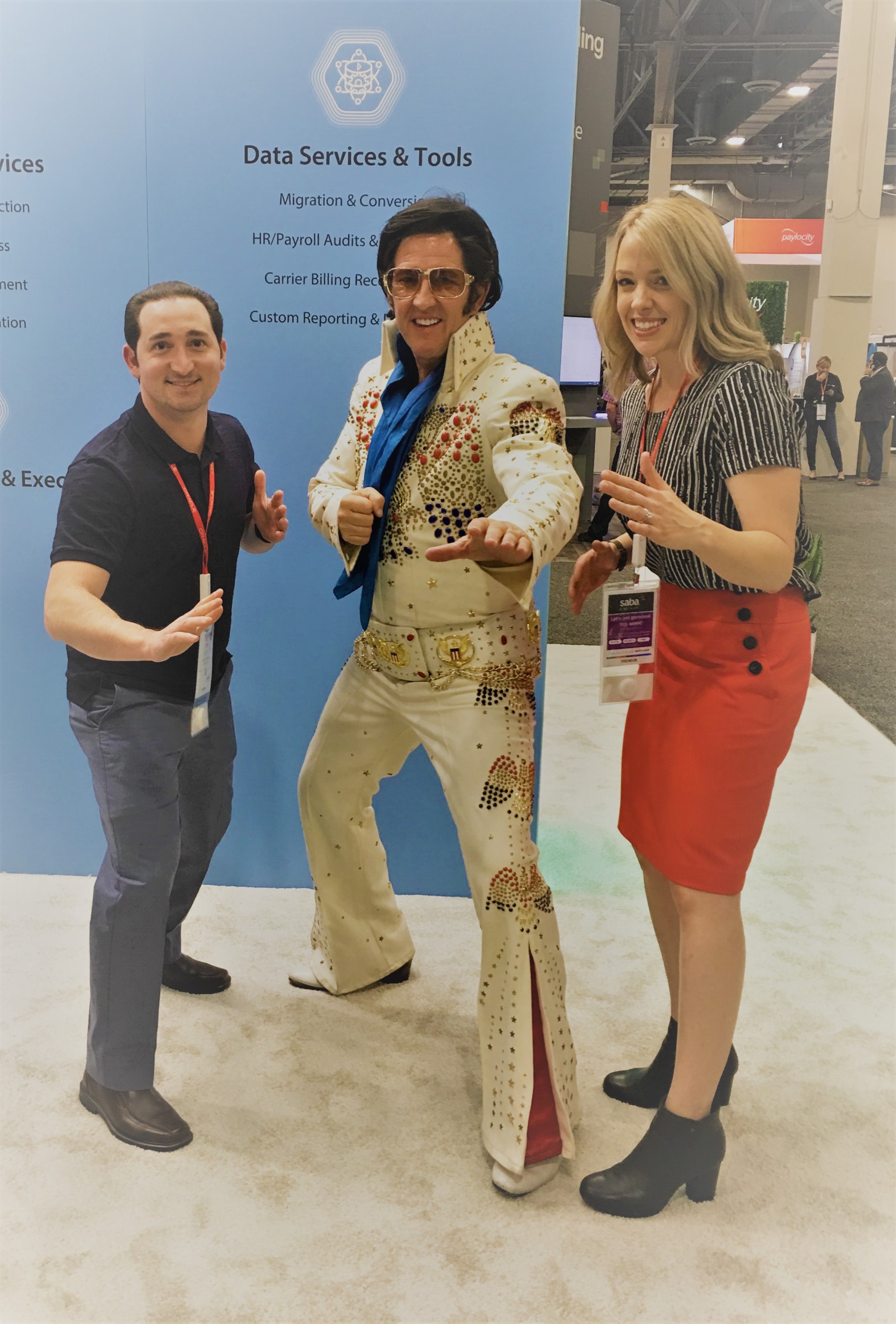 Tom Ciccotti & Jenny Bedeaux of Shortlister, posing with Elvis at HR Tech.
Article By Jenny Bedeaux, VP of HR Technology at Shortlister
Jenny has extensive experience in the HR and benefits technology market.  She heads up Shortlister's HR technology vertical and works to support employers and their advisors to more efficiently select solution providers across the HR technology spectrum.