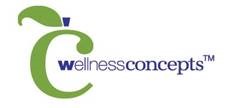 Wellness Concepts
Founded

January, 1999

Group Sizes

Any Size

Customers Served

250K
About Wellness Concepts
Wellness Concepts (WC) delivers onsite and virtual wellness programs nationwide and in the UK using the strength of over 1200 Registered Dietitians and Wellness Professionals. We offer scalable, customizable and turnkey solutions that help employees create sustainable behavior change and positive health outcomes. We can be a company's entire wellness solution or we can help fill in gaps.
Our programs are science-based and focus on nutrition as the catalyst to disease prevention and optimal health. However, we utilize a holistic approach to well-being. In addition to our onsite programs, we offer virtual solutions and a fully customizable portal. This proprietary tool bridges the gap between onsite and virtual programs to create a robust and dynamic solution that engages participants and empowers them to achieve sustainable behavior change.
Our offerings include:
1:1 nutrition counseling onsite and via telehealth (health insurance reimbursement available Q1 2018); onsite seminars; cooking classes; full-service health fairs; group
challenges; nutrition awareness stations; foodservice programs; biometric screenings onsite and offsite, stress management, financial well-being and sleep health programs.
Our services…
Can be integrated onsite and virtually
Are available individually or as a comprehensive wellness initiative (participatory or outcomes-based (can serve as a reasonable alternative/medical appeals/compliance process)).
Value Proposition
The value proposition for employers is lower health care costs, better productivity/less absenteeism, and increased morale and loyalty. Rising healthcare costs are a significant concern for all employers. A strategic investment in the health of employees will lower or at least slow the increase in health care costs. As a full-service corporate worksite wellness company, Wellness Concepts works with employers to develop programs that can help low-risk employees maintain their risk status and high-risk employees to make lifestyle changes that will improve their quality of life, and ultimately lower health care costs. Healthier employees miss less work and have higher productivity. Companies that support wellness and work to create a healthy culture have a greater percentage of employees at work every day, and are more productive when present. A company that cares about the health of employees is often seen as a better place to work. These companies save money by retaining employees, and they have a competitive edge in recruiting new employees. When employees change their behaviors health outcomes improve, health care costs go down and productivity goes up – a win-win situation for everyone.
Get More Info
Wellness Concepts Offerings
PLATFORMS & HUBS
Wellness Companies
H&P POINT SOLUTIONS
Corporate Musculoskeletal Programs
Corporate Sleep Disorder Vendors
Diabetes Programs

Diabetes Prevention Programs
Diabetes Management Programs
Corporate Metabolic Syndrome Vendors

Financial Wellness Programs
Financial Education
Mindfulness at Work
Stress Management in the Workplace
Corporate Resilience Program
PHYSICAL WELLNESS
Corporate Fitness
Corporate Fitness Programs
Corporate Fitness Challenges
Corporate Challenge Program
Corporate Nutrition Programs
Health Coaches

Health Coaching Software
Onsite Health Coaching
Telephonic Health Coach

Health Literacy Programs
Incentive Fulfillment Companies
Weight Management Programs
CLINICS, ASSESSMENTS & SCREENINGS
Biometric Screening
Home Screening Kits
Venipuncture Biometric Screening
Finger Stick Blood Test
Off Site Lab Testing Programs
Health Risk Assessment
Physician Forms
Wellness Concepts Reviews
Wellness Concepts Materials
Office Depot.pdf

Hotel Hospitality.pdf

Hunt Oil.pdf

Delco.pdf

WC SERVICE GUIDE.pdf

Wellness Concepts Virtual Programs.pdf
You must be a registered user of Shortlister to access this
information . Click below to register and download these materials .
Wellness Concepts Clients
You must be a registered user of Shortlister to access this
information . Click below to register and see this vendor's clients .
Similar Companies



Quantivize Health

Quantivize Health creates healthier, happier, and more productive employees through exercise. All of this is done in a 100% performance based way, meaning you only pay for results.

Quantivize Health …




Givhero

Givhero is an innovative social wellness platform, that leverages employees' intrinsic motivation to increase adoption, retention and engagement in well-being programs. Employers tap into this powe…




Marquee Health

Marquee Health provides clients with an outcomes-driven suite of health and wellness services that support the improvement and maintenance of a healthy lifestyle.