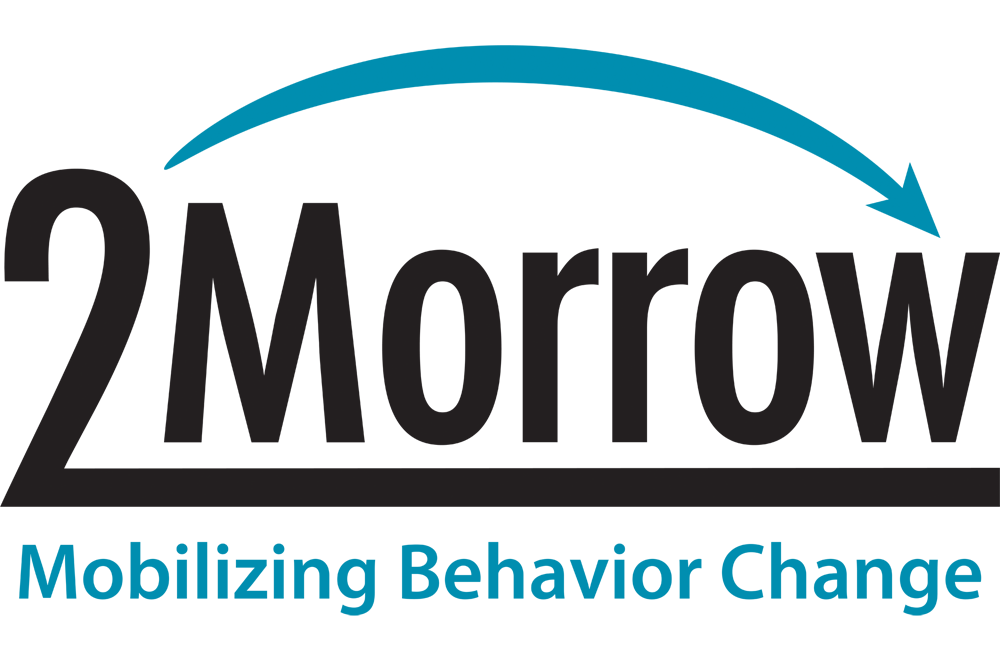 2Morrow Inc.
Founded

2011-05-01

Group Sizes

Larger than 400

Customers Served

5K
About 2Morrow Inc.
2Morrow Health Platform: One App, Multiple Programs, Unlimited Potential
2Morrow creates evidence-based, behavioral change programs that teach people how to deal with unhelpful thoughts, feelings and urges while still working toward valued goals. The behavioral science method used – Acceptance and Commitment Therapy (ACT) – is unique within this landscape, providing a compassionate and effective experience as reported by end users and shown in multiple clinical trials. These programs are delivered directly into the hands of people, whenever and wherever they need them via apps on their smartphone or web.
Programs currently offered:
• Smoking Cessation (ACA Reasonable Alternative Standard with NRT option)
• Weight Management
• Stress Management
These programs include a proprietary back-end system that offers corporate, organizational or coaching accounts distribution management, as well as access to data that can be used to improve the program, monitor engagement levels and further research.
Programs are created in collaboration with behavioral scientists, researchers, healthcare providers, thought leaders and industry experts. The approach has been shown to be effective in clinical trials with more studies in progress.
The platform is currently used by employers, wellness programs, states, health plans, clinics and providers to help their populations reach healthy goals.
Value Proposition
Approximately 50% of healthcare costs are caused by human behaviors with smoking, weight, and stress being major culprits. 2Morrow Health is a digital platform that addresses key chronic disease drivers and conditions in a new way. By using an innovative approach called Acceptance and Commitment Therapy (ACT), clinically tested programs help participants learn strategies that are effective when dealing with unhelpful thoughts, feelings and urges that get in the way of long-term success.
This platform allows groups to select one program or the full suite which can supplement current offerings or stand alone. The personalized experience is self-guided with the ability to message a coach for additional guidance. A certificate is provided upon completion; however, participants continue to be supported for 12 months.
WHY 2MORROW?
• Outcomes Based – Clinically-tested approach that results in change. Ongoing research.
• Easy – Launch, use and view of key metrics.
• Behaviorally Driven – Acceptance and Commitment Therapy.
• Reach – Smartphone based program.
• Affordable – Save 60% or more over traditional programs.
• Data and Dashboard – Real-time engagement data and population insights.
• Digital Coaching – Users can message a coach from the app or link to your coaches.
Get More Info
2Morrow Inc. Offerings
PLATFORMS & HUBS
Wellness Companies

Stress Management in the Workplace

Mindfulness at Work
Tobacco Cessation Program
PHYSICAL WELLNESS
Health Coaches
Weight Management Programs
2Morrow Inc. Reviews
2Morrow Inc. Materials
Partner Resources.docx
You must be a registered user of Shortlister to access this
information . Click below to register and download these materials .
2Morrow Inc. Clients
You must be a registered user of Shortlister to access this
information . Click below to register and see this vendor's clients .
Similar Companies



Marquee Health

Marquee Health provides clients with an outcomes-driven suite of health and wellness services that support the improvement and maintenance of a healthy lifestyle.




Pivot

Pivot is radically transforming how people quit smoking with technology, behavioral science and machine learning. We've reinvented tobacco cessation with a comprehensive platform that features the F…




Virgin Pulse

Virgin Pulse, part of Sir Richard Branson's Virgin Group, designs technology that cultivates good lifestyle habits for your employees. Configured to complement your culture, our technology, and the …